At a glance
Expert's Rating
Pros
Good sound
High bass potential
Long battery life
Nice colours
Cheap
Cons
Strange gesture control
Middling ANC
Limited features
Our Verdict
Sony's WF-C700N earbuds sound great for their price, plus they fit well, have a long battery life, and look good. The trade-offs are middling noise cancellation, odd controls, and a limited feature set, although that's not unusual in this price range.
With the Sony WF-C700N, Sony launched new wireless in-ear headphones in mid-2023, bridging the gap between the even cheaper entry-level model, the Sony WF-C500, and the high-end Sony WF-1000XM4 that have since been upstaged by the WF-1000XM5.
If you search the internet for alternatives to Apple Airpods and dig through best-of lists, you'll notice that if Sony isn't in first place, it's in second. You haven't come across a conspiracy–it's just that Sony produces good all-round headphones.
Especially where its top models are concerned, Sony has had immense success: the manufacturer's wireless over-ears have occupied top positions at least since the Sony WH-1000XM3; since then we've reached the WH-1000XM5. Sony's true wireless in-ear headphones, meanwhile, have been excellent since at least the WF-1000XM3, and the XM5 are even better.
Sony's more affordable models are also impressive. Besides several sports headphones and the admittedly somewhat strange open-back Linkbuds series, Sony also has a number of wireless in-ear headphones in its range: the WF-C500 without ANC, and the newer WF-C700N reviewed here.
This review is part of TechHive's in-depth coverage of the best noise-cancelling headphones.
In the box
ANC for $/£/€100
Environmentally-friendly packaging
For around $/£/€100, the Sony WF-C700N leave little to be desired. For the first time in this price segment, Sony is offering good active noise cancellation (ANC), after an established headphone brand, Sennheiser, entered this market in 2021 with the Sennheiser CX Plus True Wireless.
In addition to the headphones themselves and the charging cradle, there is also a USB-A to USB-C cable for charging, two additional silicone attachments, and a manual in the box. The packaging is exemplary and made of paper or cardboard and thus a renewable raw material: the outer box, the cardboard–even the cable is bound with a piece of paper.
Foundry / Eugen Wegmann
Design
Attractive colous
Button instead of touch field
Light
Visually, the Sony WF-C700N are practically identical to the cheaper WF-C500 from 2021. The most obvious differences are the colors–the WF-C700N are available in black, white (reviewed here), sage green and lavender; the WF-C500 in black, white, green and orange–and the metallic grilles for the additional ANC microphones.
Foundry / Eugen Wegmann
Unlike the Airpods, the Sony WF-C700N come without a stem, but have a button design and therefore sit completely in the ear cup without any parts hanging from the ear. The biggest disadvantage is for people with small ears: if your ears are particularly small, headphones like the Sony WF-C700N simply might not fit. The heads of the Airpods are much smaller.
As with the cheaper model, Sony relies on a button rather than a touch surface for control. While cheap true-wireless headphones with a button often have a very hard pressure point and the headphones are pushed into the ear with every press of the button, the buttons of the Sony WF-C700N are pleasantly soft, but do not lose the haptic feedback of the clearly noticeable click.
Probably the biggest disadvantage of this is that now and then you'll accidentally press the buttons when inserting or locking the in-ears.
Another feature mid-range in-ears must do without are sensors that can automatically pause music when you take them out and resume playing when you put them back in. We hope it's only a matter of time before this feature moves into this price range, just like ANC has.
Foundry / Eugen Wegmann
Construction-wise, Sony has somehow managed to maintain a battery life of up to 10 hours without ANC and up to 7.5 hours with ANC, while still reducing the weight of the individual earbuds by 15 percent, from 5.4- to 4.6 grams (0.16 ounces). In the true-wireless headphone market, the WF-C700N are lightweight and therefore sit comfortably in the ears for hours. When the batteries have been completely drained, a full charge cycle takes about an hour and a half, while 10 minutes is enough for a full hour of listening pleasure.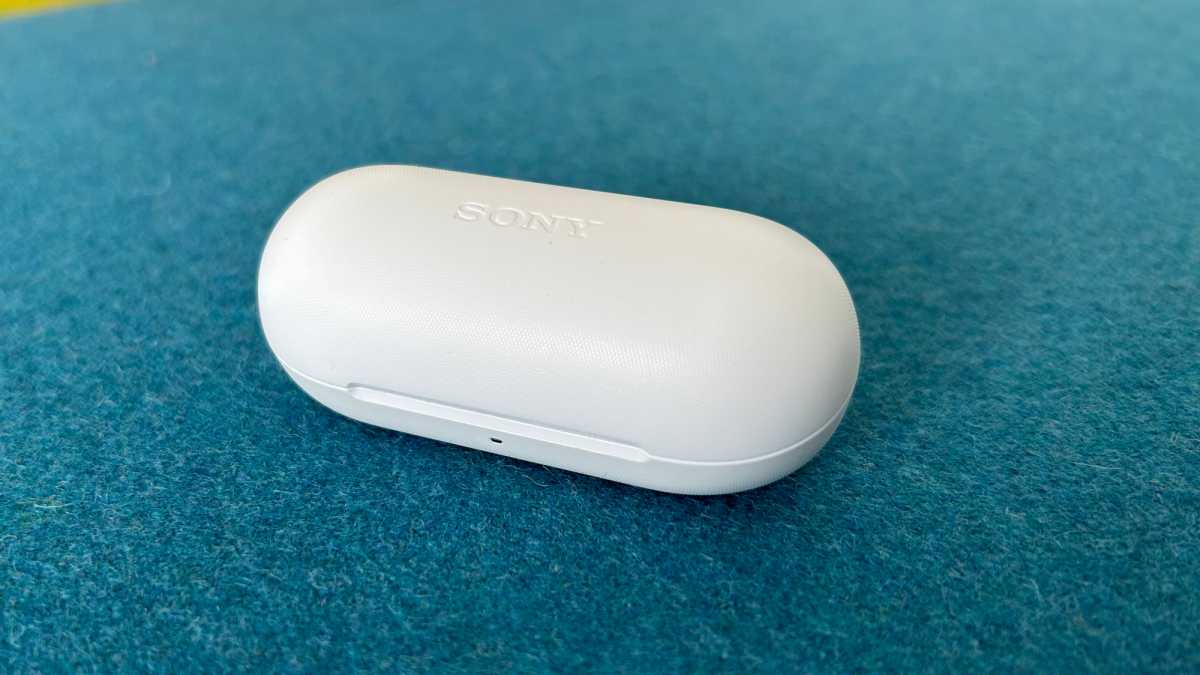 Foundry / Eugen Wegmann
The case looks like an oversized pill, is pleasantly light, and feels wonderful in the hand. Almost too well, because it invites you to play around with it in your trouser or jacket pocket. The battery inside provides a full charge for the earphones, giving a total runtime of up to 15 hours with ANC and 20 hours without.
A USB-C port is in the back for charging, and there's a button to put the headphones into pairing mode or reset them to factory settings.
Foundry / Eugen Wegmann
Sound
Balanced sound from the factory
Very high bass potential
5-band equalizer plus clear bass
Although the Sony WF-C700N are something of a link between the cheaper WF-C500 and the more expensive WF-1000XM4 and -XM5, in terms of sound they are much closer to the former. That's not a bad thing, though, because even Sony's cheapest headphones sound pretty darn good, even if they are typically a bit bass heavy.
While the mids and highs sound very clear and balanced, the greatest potential of the Sony WF-C700N lies in the bass. Even with Clear Boost set to level 4, bass tracks in traditionally less bass-heavy genres such as rock and metal become clearly audible, although they are far from being overbearing. Rather, they move from the background a little to the front and do not impose themselves because of their surprisingly warm sound.
While there is too much of a good thing in these genres beyond level 4, the fun is just beginning with modern hip-hop and electronic music. The dirty synth bass in practically every Run the Jewels song gets even dirtier, while the crunchy bass drums in drum-and-bass tracks get a bit richer and warmer.
In this respect, the Sony WF-C700N are more suitable for the latter genres than the former, but this should be understood more as an assessment than as a criterion for exclusion, as the sound can also be adjusted with a 5-band equaliser. On the one hand, there are the typical presets for pop, rock, speech, etc.; on the other hand, you can make and save your own settings.
Five frequency bands are quite sufficient in my opinion; after all, the Sony WF-C700N is not a hi-fi product. That said, we would have objected to having access to just three bands.
Foundry / Eugen Wegmann
Software
Good, but not best-in-class ANC
Strange gesture control
3D audio only with Sony account
ANC
One of the biggest technical differences between the cheaper WF-C500 and the WF-C700N is the active noise cancellation. This was previously reserved for more expensive models, but now it's also available for a comparatively small price.
In the app, you can set which modes to switch between at the touch of a button: between all three or only between two of three. On/Transparency is configured by default, which is probably the most common use case for most people. Including the deactivation of noise cancellation in the rotation helps at best to extend the battery life when needed.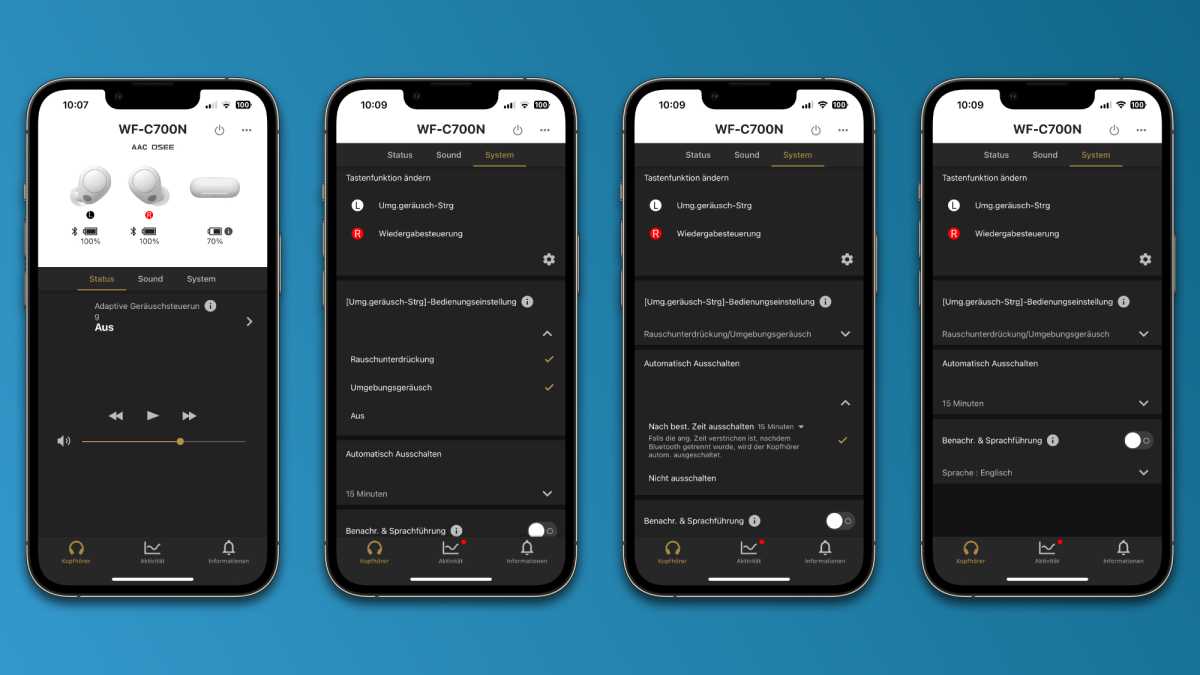 Foundry / Eugen Wegmann
While the ANC does a good job on the whole, it doesn't come close to the performance of the Sony WF-1000XM4: when switched on, not all frequencies are filtered to the same extent, and in transparency mode there are also problems with some frequencies. While monotonous machine noises (engines, compressors, etc.) can be heard well–a definite advantage in road traffic–some frequencies where vocals reside are sometimes so swallowed up that I sometimes had to take the headphones out at the cash register in order to understand the person opposite.
The difference in quality is probably due to the fact that the Sony WF-C700N have fewer microphones than the high-end models and therefore pick up ambient noise less effectively.
If you want to partially automate the switching on and off, you can give the Sony app permissions so that the headphones automatically switch noise cancellation or transparency mode on and off based on location and actions.
This did not work well enough for to want to use it every day. Perhaps I would also have needed more time to train the underlying algorithm. The only advantage the function had for me in this context was to free up one of the two buttons for other functions: a strange design decision, Sony.
Foundry / Eugen Wegmann
Gesture control
Different approaches to gesture control have emerged for true-wireless headphones: There are manufacturers, such as Sennheiser, who leave the entire button assignment open: if you want, you can put play/pause on the opposite side, double assign it, even put it on all inputs if you absolutely have to–single-, long-, double-, and triple-button press–any function can be put on any gesture. In this way, owners can perfectly adapt the control to their preferences.
Then again, there are manufacturers who allow practically no adjustments. Play/Pause is on the left side by default when you simply tap, ANC is on the other earpiece, and so on. This has the advantage that you don't have to get used to a new input scheme and all headphones (of this manufacturer or type) operate the same way.
And then there is Sony: Here they have opted for a strange middle way, where you can assign individual input groups to the left and the right earpiece. For example, if you put playback functions (play/pause, previous/next track) on the left earpiece and ANC control on the right, you can only change the volume on your smartphone. This is because ANC not only occupies this single gesture with its single input, but in a sense, it also blocks the long key press and multiple presses; these then simply have no further function.
Why this is, we may never know. However, the cheaper WF-C500 and the more expensive WF-1000XM4 also have the problem, though it's not as severe in the former as ANC is omitted anyway.
Other app features
Besides the basic features–ANC, equalizer, and button mapping–there are a few other interesting, if not essential, functions. For example, you can set whether or not to use DSEE in the app. Sony's proprietary technology can intelligently scale low-resolution audio upwards and thus reproduce an almost high-resolution sound. I generally recommend using this setting.
Furthermore, there is a switch in the app with which you can prioritize sound quality or connection stability. During my testing, this setting was permanently set to "Quality," and in combination with an iPhone 14 (usually in my pocket), there was not a single connection interruption.
If interruptions happen regularly, trying switching to prioritizing stability. In the background, this setting forces the AAC codec to quality mode, while a more stable connection is achieved by the less demanding SBC codec.
Like many other manufacturers, Sony also has its own solution for virtual surround sound; in Apple jargon this is called "3D audio;" at Sony, it's called "360 Reality Audio." As with the Airpods, you must photograph your ears for this, which is a strange undertaking, because without outside help you don't know whether you have photographed your ear correctly. After all, you can't photograph your ear and look at the smartphone display at the same time.
Anyway, this function is very, very limited with Sony: 360 Reality Audio is only compatible with four streaming services: Amazon Music Unlimited, nugs.net, Peer Tracks. and Tidal. Moreover, a Sony account is mandatory.
Probably the most superfluous feature of the app is a series of challenges that you can earn the more often you use your headphones and complete certain tasks with them. You then get rewards for this in the form of badges.
Foundry / Eugen Wegmann
Price and availability
The Sony WF-C700N are widely available in the U.S. and now at closer to $100 than the $119.99 MSRP. You can get them from Best Buy and Walmart among other retailers but at the time of writing, Best Buy has more color options.
In the U.K., you can buy from Currys, Argos, and John Lewis. Those retailers have all the color options for £99 or £99.99.
Should you buy the Sony WF-C700N?
If you're looking for wireless in-ear headphones with noise cancelling, and don't want to dig too deep into your pocket, you can't go wrong with the Sony WF-C700N. They sound great, especially if you like electronic music and hip-hop or would like a bit more thump in the depths of your metal playlist.
The key advantage, over both the regular Airpods and the Airpods Pro, is that they offer an incredible set of features for their price–you can't even get the discontinued Airpods 2 for $99, and those sit open in the ears and don't have ANC. Plus, the Sony WF-C700N come in more colors than just white.
In comparison to higher-end models with noise-cancelling–be it the Sony WF-1000XM4 or XM5 or the Airpods Pro 2–you will need to make concessions: The active noise cancellation doesn't work quite as well, and some smart features are missing, including automatic pause/automatic play when removing and inserting the headphones respectively.
All in all, however, the Sony WF-C700N are a great alternative to the Airpods.
This review originally appeared in TechHive's sibling publication Macwelt and has been translated from German.