At a glance
Expert's Rating
Pros
Your listening room will come alive with the sound of spatial music
Stereo content sounds super dynamic
Runs in the best-of-breed Sonos multi-room audio ecosystem
Cons
Sonos Trueplay not yet optimized for 2.0 or 2.1 configurations
Speaker placement is critical for optimal results
No HDMI connection
Our Verdict
A stereo pair of Sonos Era 300 speakers, combined with a Sonos Sub, yields sweet stereo and engrossing spatial audio performances. But you'll want to invest some time finding the best placement for the pair, and Sonos needs to update its Trueplay software so users can optimize the trio's performance within their listening spaces.
The Sonos Era 300 streaming speaker has garnered universal praise from home audio critics, including this one. Priced at $449 each, it's the most expensive monophonic speaker in the Sonos catalog. If you want stereo—and even more immersive experiences with spatial audio—you'll need two of the Era 300. And if you're going that far, wouldn't it be best to throw the $799 Sonos Sub into the mix?
I won't keep you in suspense: The answers to all the questions I've raised is a resounding "Yes!" Albeit with a few caveats.
Even a single Sonos Era 300, when properly placed and tuned to exploit the resonances of your listening space, will sound special, stretching out in panoramic fashion. Curvy and compact, A Sonos Era 300 is packed with six high-performance drivers (pointing forward, to the sides, and straight up), each driven by a dedicated Class D amplifier.
This review is part of TechHive's in-depth coverage of the best smart speakers.
Play music encoded with the "object-focused" Dolby Atmos—available in large quantities from the Amazon Music Unlimited, Apple Music, and Tidal music-streaming services—and the Era 300 will deliver deliciously three-dimensional sonic experiences, enveloping you in a sensory embrace with surprising spurts of instruments and voices seeming to come at you from all over the room. But if you just want my opinion of a single Sonos Era 300, you can read my in-depth review.
Jonathan Takiff/Foundry
Sonos displayed an Era 300 pairing in a vignette setting at its East Coast launch event in February, but it didn't demonstrate such a setup, and it sent only a single Era 300 for my review, linked above. With a bit of cajoling, a second Era 300 and a Sonos Sub landed at my door.
Whether cued up to deliver stereo content or to wrap you up in a Dolby Atmos production, a pair of Era 300s are often better than one, creating a bigger, bolder field of sonic dreams. But things also can get iffy in that scenario—at least when it comes to placing sound objects with pinpoint precision in a 360-degree sphere. A single Era 300 delivers such events with wonder and surprise; but to my ears, those special audio effects are not always as sharply focused when a pair of the boxes is working together.
My experience—and a couple of conversations—leads me to believe that the engineers at Sonos, brilliant as they are, still have some tuning complexities to overcome. That's why I've awarded a single Era 300 4.5 stars while a pair-plus-subwoofer warrants 4 stars.
Stereo beats mono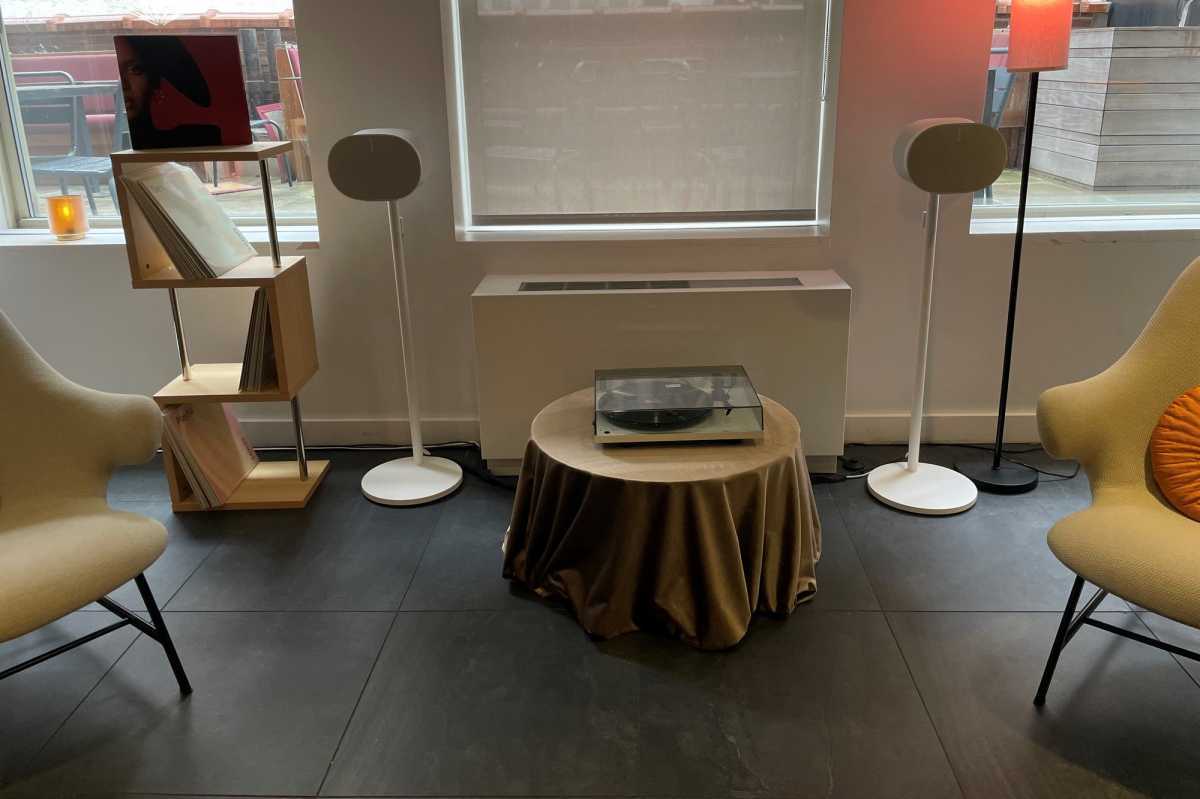 Jonathan Takiff/Foundry
It should come as no surprise that reproducing the left and right audio channels with discrete and well-separated boxes, while also shunting the lowest frequencies to a third and purpose-built speaker (a subwoofer) improves the Sonos Era 300's performance. Voices and instruments are more relaxed and palpable, and trebly content is less granular. These refinements draw a single Era 300 plus Sub closer in personality to a Sonos Five, the $549 speaker that Sonos still promotes as its best single-speaker stereo solution (though it too can also operate in pairs, with or without a subwoofer).
And while there are two terrific next-gen woofers in each Era 300, adding the Sonos Sub still brought dramatic improvements to some material. Listening to Taylor Swift's latest re-recording project in Dolby Atmos, Speak Now (Taylor's Mix), I heard despairing bass notes and weeping strings in the 2.1 configuration that virtually disappeared from the tracks "Innocent," "Dear John" and "Haunted" once I shut down the subwoofer. The floor-sitting sub also enhanced the surround-sound experience environmentally, making the whole room rumble.
Tips on setting up a Sonos Era 300 stereo pair
With the Sonos app as your guide, pairing the left- and right-hand Sonos Era 300 speakers plus a Sonos Sub is almost as easy as plugging in a single speaker. There are no interconnecting wires, just AC power cords for each. The app will recognize the newbies automatically if you've previously installed other Sonos speakers on your home network. It's possible to get the trio up and running in less than five minutes.
Jonathan Takiff/Foundry
Spoiler alert: Using Sonos' Trueplay software to fine-tune a pair of Era 300s to your listening space is a work in progress that Sonos' software engineering team has not yet fully finessed. With a single Era 300, you can easily activate an automated Quick Tuning process: the speaker throws out sounds and its onboard microphones sense how they're reverberating in your space.
The process is even better if you have an Apple iPhone or iPad: You can wave your iPhone or iPad around the room and their microphones will pick up and analyze how the sound is bouncing off the walls, ceilings, furniture, and such. In both cases, the Era 300 will analyze the results and optimize the speaker's performance in the room.
When setting up my test system, it seemed logical to first link the left- and right-hand speakers and the subwoofer and then run Trueplay with my iPhone. That didn't work. I repeatedly got "error" messages, "try again" messages, and tsk-tsks (with visuals!) that suggested I wasn't waving my phone around correctly.  
Jonathan Takiff/Foundry
Only after an hour on the phone with Sonos' customer support (and my service agent's periodic consulting with higher-ups) was it determined that the left- and right-hand speakers in an Era 300 pair should be Trueplay-tuned independently and then joined as a stereo pair. This also meant I needed to undo the programming I'd done by "forgetting" all three speakers and then performing the setup routine anew.
My tech consultant apologized for the confusion and said a fix is in the works, so users will be able to tune a pair of Era 300 speakers simultaneously. I'm thinking that should any correct any timing errors and conflicting EQ/balance adjustments that might now be muddying the sonic playing field. It could also explain why the "way out there" sound effects I sense when listening on a single Era 300 aren't always placed as vividly on a paired set.
Attaining the best positioning for a Sonos Era 300 stereo pair
As I've already mentioned, getting the best performance from a single Sonos Era 300 means finding the precise correct location with respect to your listening position. Deploying a pair of these speakers is much less challenging. In my 21 x 14-foot (WxD) listening room, I found I could still enjoy about 85 percent of the spatial effects way off center from the sweet spot, sitting 8 feet back and directly in front of the left-hand Era 300, with the right-hand speaker 9 feet over. Non-directional bass from the Sub helped even things out.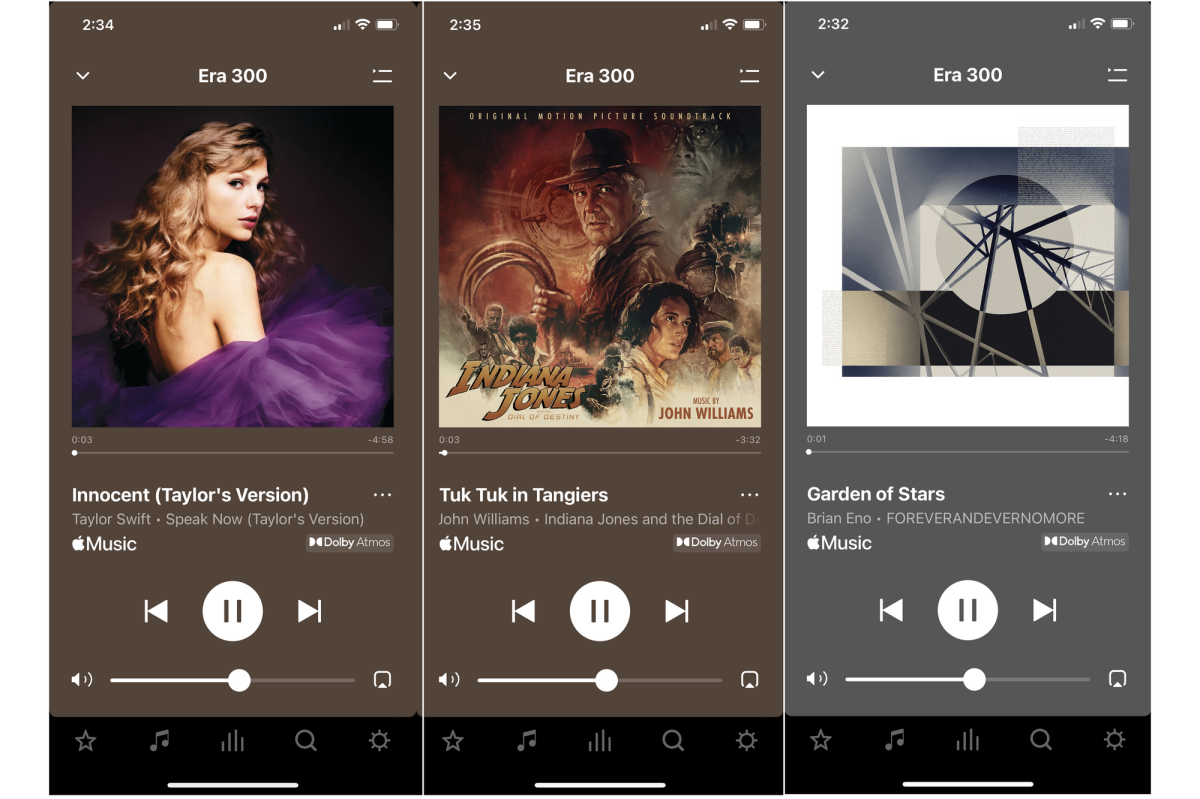 Jonathan Takiff/Foundry
Minor modifications in speaker placement made a big difference in keeping the Atmos-sphere alive. Toeing-in the speakers' fronts 45 degrees really helped—especially as that pushed more of the outside drivers' sound into the room and minimized the clash of sound coming from the inner side speaker grills. (Sonos disables those inner-facing drivers when Era 300s are configured as a stereo pair, but with my ear to the side grill, I could still hear some sound bleed through; a tech-support rep told me that sound is emanating from the front driver.
I also noted improved spatial imaging when I sat either a little above or just below the speakers, rather than facing them with my ears lined up with the speakers' dead center. In the latter listening location, direct sound often overwhelmed my sense of the side-throwing and reflected sound effects. If your sofa isn't low slung, you should be considering the just-shipping, 37.64-inch tall Sonos speaker stands rather than the 32.31-inch tall Sanus stands I've been using. That 5-inch elevation difference can be significant.
The improvements, post-tweaking, were noticeable on pretty much everything I listened to that was processed in Atmos: quite artfully with Meshell Ndegeocello's bold neo-soul exploration The Omnichord Real Book (dive in with the call from outer space Virgo), on John Williams' ever-edgy score for Indiana Jones and The Dial of Destiny, and with a new Dolby Atmos remix of Brian Eno's Foreverandevernomore.
Can you use a pair of Sonos Era 300s as TV speakers?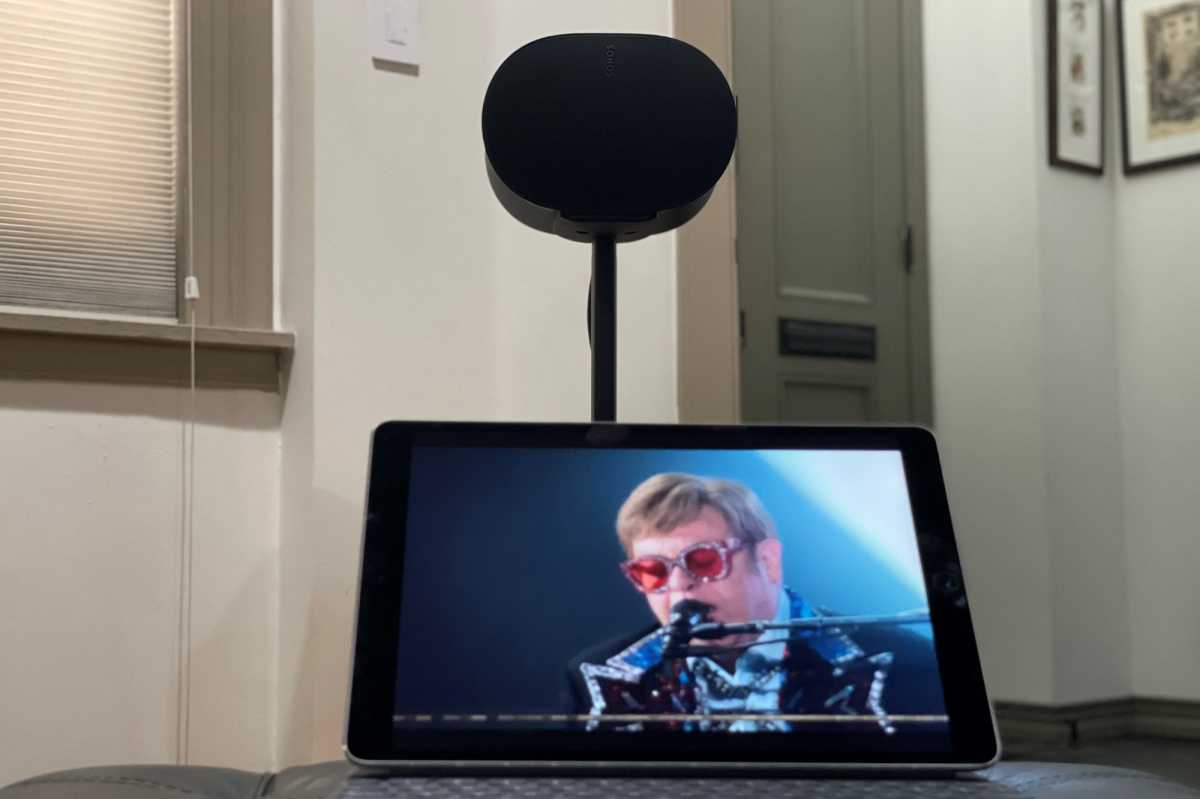 Jonathan Takiff/Foundry
With both Bluetooth and Airplay 2 radios on board, you can wirelessly stream the audio portion of movies and concerts from a smartphone, tablet, laptop, or a Bluetooth-audio-beaming TV (a growing species) to your Era 300 speakers. And be assured, the performance will be peachy. Making a connection from the Disney+ app on my iPad Pro, Antman and The Wasp: Quantumania and Elton John: Farewell from Dodger Stadium both rocked the 2.1-channel Era 300 kit in super-satisfying stereophonic fashion—with excellent balancing of voices, special effects, and scoring. (Sorry, Dolby Atmos mixes don't stream as-is via Bluetooth or Airplay 2.)
A stereo line-level input on the rear of each Era 300 likewise extends their usefulness, good for connecting to the analog audio outs on an older TV, a turntable (with an onboard or outboard pre-amp), and more. But you can only use one, not both, and you'll need a Sonos Line-In Adapter, since the signal goes in via the speaker's USB-C port. Similarly, just one speaker's onboard microphone–left- or right-hand, your choice–can be activated for receiving Alexa or Sonos Voice commands.
HDMI is one feature you won't find on a Sonos Era 300; those are reserved for Sonos' line of excellent soundbars. Sonos advocates using a pair of these speakers as the rear channels for one of its soundbars, a use case that's beyond the scope of this review.
Should you buy a pair of Sonos Era 300 with a Sonos Sub?
Pairing two Sonos Era 300 speakers with a Sonos Sub is not an inexpensive proposition, but it does yield spine-tingling, ear-perking, mind-blowing sonic experiences with music—music with spatial audio coding in particular. The combo is pretty great with movies, too, but I won't weigh in as heavily on that score since I haven't evaluated their use with a Sonos soundbar.
All that said, there is room for improvement: Sonos needs to update its impressive Trueplay tuning software so that it EQs the speakers as a threesome. And while I'm making wishes, here's hoping Sonos can make it easier to discover spatial audio tracks in the Sonos app. When I go fishing for entertainment there, only a fraction of Amazon's and Apple's Dolby Atmos-encoded tracks show up in themed playlists and album groupings. You'll have no clue which albums in the New Releases bin are Atmos-sized until you open a specific title. Being able to do a refined "just show me everything encoded in Dolby Atmos" search in the Sonos app would make this music maven very happy.